So, you've taken the time to learn how to use Thunkable (or you've remixed one of our awesome starter templates!), you've carefully crafted your user interface and thoroughly tested your blocks. Now you want to share your app with the world!!!
Well…you want to share your app with your friends and family at the very least.
We've always given you publishing options with Thunkable ✕. You can download your .apk and publish it to any Android store. You can also submit your project directly to the App Store for iOS devices. Today we're delighted to announce that PRO users now have the option to Publish your project as a Web App.
What is it?
Publish as Web App allows you to - at the click of a button - generate a sharable web link for your project. You can send it or share it to anyone you like, and the recipient can see your project directly on their phone, or on their computer.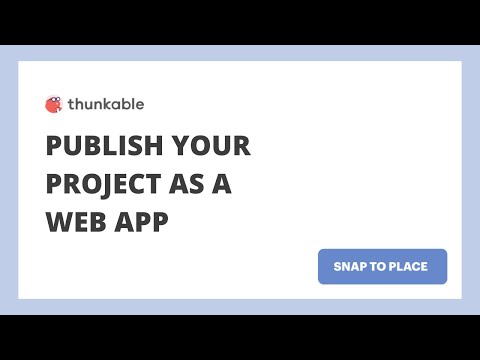 (h/t to
@jane
@joannietw
@aniolpages
@makks
&
@Nice_kode4
for their help translating the subtitles of this video)
Try it for yourself
Here's a link to our popular "Rollin" sample app.
This link will work great in any browser but is best experienced on your phone:
Custom Domains
You can also set up domain forwarding to make nicer looking domain names for your app, in the case of the Rollin app above, I've also set up: rollin.domhnallohanlon.com
Publish to the Web
To get started, click "Publish" and choose the "Publish as a Web App" option at the bottom of the menu
The first time you publish a new project you will have to click on the blue "Get link and publish" button:

The next screen gives you a lot of control over your web app. You can open the app in a new tab, copy the app link, share your app through popular channels, and you can even "unpublish" your app.
Updating your app
Each time you publish it's similar to releasing your app in one of stores. This means you can make changes and updates to your existing project without worrying about users seeing a half-finished new feature that you're still working on.
When you're ready to release a new version, choose "Publish as a Web App" then click the blue "Publish current version" to update your app. The URL will remain the same, but the project that it links to will be updated.
Unsupported Components
A number of components are not supported at the time of launch. In some cases we will be able to add alternative components while in others we may be able to add support in a future update. There are some rare cases where we won't be supporting certain components in web apps. You can find the full, up-to-date list in the Thunkable Docs
Share Your Apps
We can't wait to see what you build with this new feature - please use #MadeWithThunkable when you're sharing on Twitter and we'll retweet our favourite projects.
If you want to share your apps in the community you can post them as a reply to this post, but the best place is in the #ShareYourApps or #SuccessfullyTHUNKd section
Upgrading to PRO
This is just the latest perk that we're offering for our PRO members - you can see a full list over on our pricing page.
If you'd like to try web app publishing for yourself you can upgrade today directly through your membership page.
Finally, any questions about PRO membership can be asked in the comments here, or you can reach out to us directly by emailing us: [email protected]