thanks @catsarisky
yeah, I get new ideas after every wdc challenge
That's what's so amazing about this community - thank you all for being so supportive and encouraging (to everyone, not just me!)
I'm pretty excited about my idea for this challenge…it might take a little longer than a weekend to complete though!
And thank you too for all the great help!
No, no, I wasn't asking you to submit it. The longer you take, the better the output(or so I believe). Take your time with it- I'd love to see it when you're done!
Yep, These people are soo encouraging, Everyone feels welcomed, as though they were friends for a long time (We thunkers are!)
What I made today:
(You can drag the plants around - please do! Other than that, there's no current function.)
UPDATED (5/28) - there's some function but not quite a full game yet. Updated link below.
Graphics modified from the work of upklyak on freepik.
This is great! The best part is that there are lots of flat surfaces(tables/shelves) to put the plants on. I know you're still working on it, but an idea: You could try allowing the users to adjust the size of the plants. I added the 'other' plant thinking it would look good on the bookshelf, but it turned out too huge and I had to put it beside the sofa. Other than that, it's great fun moving them around!

@domhnallohanlon I have so many ideas for this WDC! Is more than one submission allowed?
I am so contrary… for the WDC I submit a game, and for the WGC I'm making an app! Is that alright, or should I switch to game mode?
Thanks
Hi…My entry is V3 for Dva Patri.
Dva Patri is a pill reminder and overall health app for elderly.
The app's V4 is the current version.
Sadly,As i submitted V4 for a competiton which's results are still due so i cant share V4.
But i Have given a glimpse of it -
So here is the projectPage of my entry -
(LIVE TEST ON MOBILE WORKS (BETTER THAN LAPTOP)- Thunkable
So pls do see it.
A few things that I learnt -
Zapier
Zendesk
etc.
Absolutely @codeswept - glad to hear this prompt has given you plenty of inspiration!
Yeah, no problem at all. The prompt is just there so that we're all working on something similar at the same time. After that, the design, implementation, functionality etc is all up to the individual Thunker
Cool, thanks!
Working on 2 apps right now. Trying to implement some gamification into them.
I tried couple of them giving the same but it could be my phone having an issue.
By the way,
My daughter, 12 years, tried your poodle game and got 25 the first attempt.

I added some sprite collision and gravity.

here's my (simple) entry to WDC #14
Stretch MARKS - an app for tracking stretching exercises
my physical therapist put together this set of stretching exercises for me to relieve me of the pain i've been feeling in the back of my legs apparently caused by sitting in front of the computer for so long because i've been working from home, watching netflix, and sometimes working on thunkable apps! (whew!)
I wanted it to be simple so i had already planned on using DVL's because they handle lists very well in a "nocode" manner. i settled on a running one week's worth of history (using the day of the week as index) for simplicity and i knew i had to use google sheets because it could handle many of the automatic calculations, including building the URL for making the charts appear in the weekly progress DVL.
here are my screens

you can watch a short movie showing how the app is used.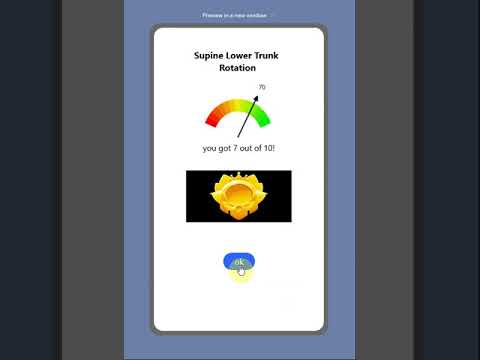 make a copy of the google sheet i'm using and upload it to your google drive as stretch_db
finally, here's a link to my project (new link)
https://x.thunkable.com/copy/a266f8eb4449b7f0381a89199e16b00c
unfortunately when a thunkable project using google sheets is shared, the datasources are converted automatically to local storage so it cannot be truly tested. these are the steps that i've used to make it workable.
make a copy of my stretch_db sheet and upload to your google drive under the same name.
open the project and while in design mode, edit every screen with a DVL, note down the datasource and table, then clear out the values.
delete the old datasource - then add the new datasource (from google drive)
in design mode, provide the correct values for datasource and table for each screen that uses a DVL
in blocks mode, revisit each screen and redo all datasources-related blocks (purple?) with error indicators until no more errors (ie. by redo, i mean, drag a new version from the templates and replace the old one after copying the required parameters)
good luck
Wonderful entry! I love the weekly progress graphs.
thanks for the kind words!
what i wish to point out is that i'm using a plain Data View List to show that weekly progress - it means all the elements in each row are fields in the data and even the chart itself is encoded as a simple URL.
you can extrapolate … it is possible to show your company's year-to-date sales and expenses, BY department(!) as long as all the data you need to build the chart can be found in one row!
Sorry I didn't tell you earlier, but I can't participate in this WDC because Thunkable shows a white screen on my device.