Extension TreeView

Price 7 USD Read before buy. terms and conditions
1. Explanation
Extension Create the list of path, as a tree view expandable.
2. Features
Icon support
3 FontIcon (Material,FontAwesome,GoogleMIcon)
Scroll and Expandable
3.Methods, Events and Properties


Wether AutoExpand when TreeNode clicked


Custom Font for the text

Identify what font are being used, "gmd" For Material Icons, "faw" for Fontawesome , "gmi" For google material icon

Size of Close/Expand Button

Margin beetwen tree Left side
Notify when TreeNode clicked/longclicked, with return data itself
Get TreeNode, for call on specified Node.

Set specific Node to change the icon, node get from GetNode methods

Set specific Node to Expand with boolean value, node get from GetNode methods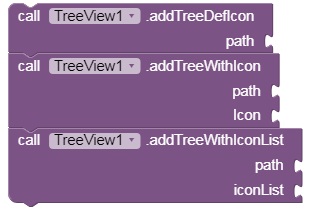 AddTree if data icon out of range will be set for default icon you were set.
Thanks to :
Stackoverflow forum
This community
More Info :