Extension Own GridCardview


Price 22 USD(11USD if already buy GridcardView) Read before buy. terms and conditions
1. Explanation
Extension Show absolutely your own custom Grid Card your apps won't be same with prev app cause this extension can totally design your own.
2. Features
Design your own your desire Card
Smart Filtering(Change value when filtered will also change the main data).
Caching storage from jake hawtorn at github & picasso lib
Custom columns
Dynamic label badge position
3.Methods, Events and Properties


Set total Column of the gridView

When Last grid were ods column, will set fit the layout or same other size
Listen when Card clicked return data information itself.

Notify that Ripple effect animation was finished.

Start with register of HV Arrangement layout target and your own structure data.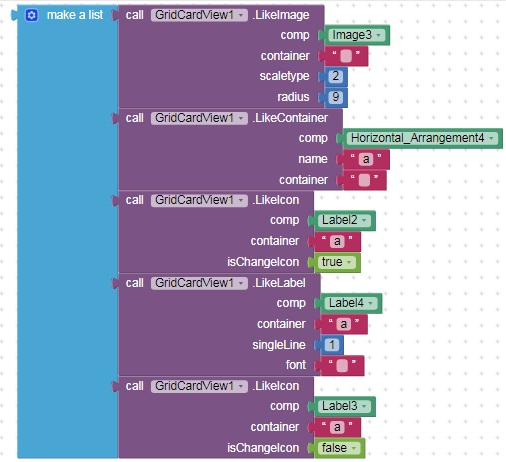 Design your layout on designer builder then regis its.
The Structure data should be arrayed like this.
Build Structure of your own design, remember the container name empty string means Component will add to main layout.
These methods set the Your layout pinned to the top(Experimental function).

Start your list makelist of value would be set, the value base on the component type, container won't be count, The last two list items are for label Empty mean not visible.
Image Url path, Label Text, Icon if set isChange then value must code name icon if not set by color, Checkbox Text, Button Text .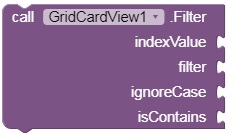 Filter indexValue componet value willbe filtered, isContains if false filter working if equals.

Clear Clear your list, and another clear function.
SetValue Set specificly data would be changed.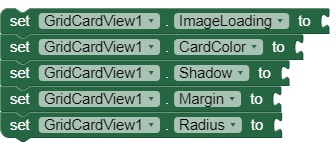 Customize the cards (Can set on designer Property)

Customize the Ripple Effect(Can set on designer Property)
Customize the Label Badge(Can set on designer Property)

Go To Position are smooth or not.
PREVIEW VIDEO
Thanks to :
Stackoverflow forum
Github
This community
More Info :