Extension EMAIL SMTP

Price 16 USD Read before buy. terms and conditions
1. Explanation
Extension which Allow you to send email from email host (GMAIL AND YAHOO TESTED), can sent Plain Text with multiple attachment support or HTML Format.
2. Features
Multiple Attachment
HTML Format
Run Async(Background)
3.Methods, Events and Properties


Set HOST of Email Provider


Set Format email, can set as HTML


Set Port of Email Provider

Notify when Email Sent.

Notify when Email Not Sent.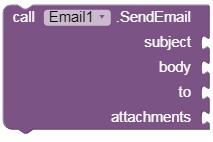 Method send E-mail with attachment list, create Empty list to not attach file

Set Your mail(sender). Note: to send via app you must set less secure off your email account
Thanks to :
Stackoverflow forum
This community
More Info :